Colored masking tape
is a versatile and vibrant tool that adds a creative touch to a wide range of projects and applications. While masking tape is commonly known for its utility in painting and masking tasks, colored masking tape takes it a step further by offering an array of vibrant hues. This colorful alternative to traditional masking tape allows for endless possibilities in art, crafts, labeling, and organizing, providing both functionality and aesthetics in various creative endeavors.
Endless Creative Possibilities:
Colored masking tape opens up a world of creative possibilities. Whether it's scrapbooking, art projects, home decor, or DIY crafts, the vibrant colors of masking tape bring a new dimension to the creative process. From creating geometric designs on walls to decorating gift wrap, the tape's vibrant hues add visual interest and allow for unique personalization. The versatility of colored masking tape inspires artists, crafters, and creators of all ages to experiment and explore new artistic expressions.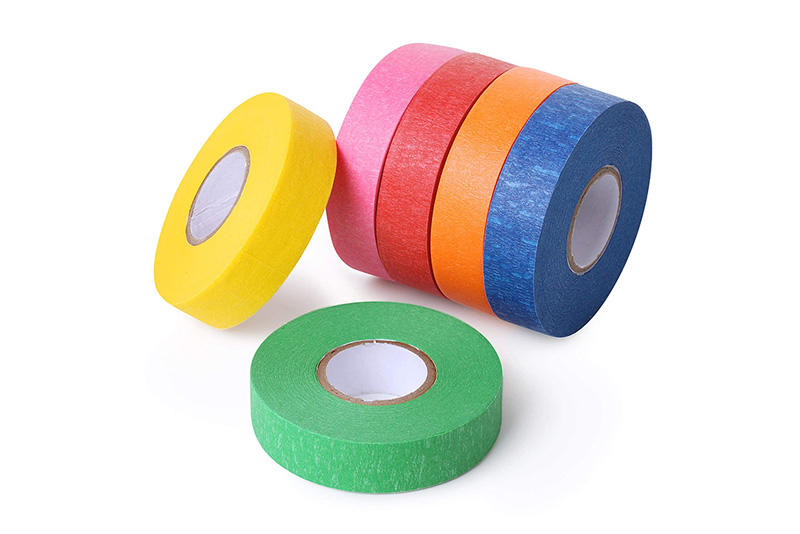 Organizing and Labeling:
Colored masking tape serves as an excellent tool for organizing and labeling various items. Its bright and distinct colors make it easy to identify and categorize objects, whether it's labeling folders, storage boxes, or jars. By using different colors, it becomes simple to color-code items for efficient organization. Additionally, the tape's adhesive properties make it easy to apply and remove, allowing for flexibility and adaptability in changing organizational needs.
Artistic and Decorative Applications:
Colored masking tape is a popular choice among artists and designers for its versatility and visual impact. Its vibrant colors can be used to create bold outlines, patterns, or backgrounds in mixed media artwork, collages, and illustrations. The tape can also be torn or cut into different shapes and sizes, allowing for intricate detailing and layering effects. Its adhesive properties adhere well to various surfaces, including paper, canvas, wood, and more, making it a versatile tool for artistic expression.
Craft Projects and DIY:
Colored masking tape adds a creative twist to various craft projects and DIY endeavors. Whether it's creating colorful borders on cards, embellishing journals, or designing custom washi tape, the tape's vibrant colors and easy application make it a popular choice. Its flexibility allows for easy manipulation, enabling users to create unique patterns, shapes, and textures. The tape's adhesive properties also ensure that it securely attaches to different surfaces, providing a durable and visually appealing finish to craft projects.
Practical Applications:
While colored masking tape is often associated with creative pursuits, it also serves practical purposes in everyday life. Its distinct colors can be used for marking, highlighting, or indicating important information. Whether it's marking measurements on a wall during home improvement projects or designating areas for safety purposes, colored masking tape provides a quick and easily visible solution. Its removable nature ensures that it can be cleanly peeled off without leaving residue or damaging surfaces.
Versatility and Easy Handling:
Colored masking tape retains the qualities that make traditional masking tape highly versatile and easy to use. It tears easily by hand, eliminating the need for scissors or additional tools. The tape adheres smoothly to surfaces and can be repositioned if necessary, making it user-friendly and forgiving. Its versatility allows for both temporary and semi-permanent applications, giving users the freedom to explore different ideas without long-term commitment.